Developmental Stages & Accomplishments
• Child has a growing sense of self and ability.
• Strength, motor skills and coordination develop
at their own rate. Children the same age my not
have the same skills or abilities.
• Starts looking to friends for peer acceptance.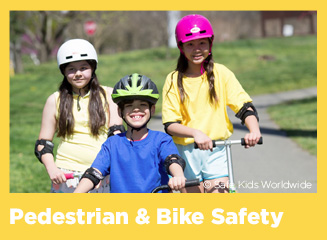 Teach kids how to walk safely: look left, right and left again before crossing the street.
Children under 10 years need to cross the street with an adult.
Teach kids not to run or dart out into the street or cross between parked cars.
Make sure your child has the right size helmet and wears it every time when riding, skating or scooting.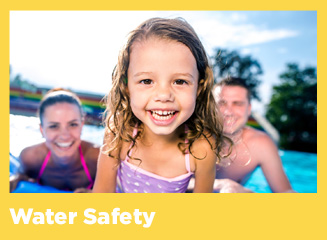 Enroll your child in swimming lessons when you feel your child is ready.
Teach kids never to go near or in water without an adult present.
Make sure your home pool or spa has a proper drain cover.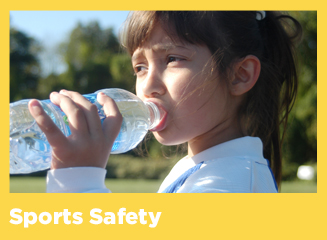 Bring a water bottle and take regular breaks.
Know signs and symptoms of dehydration and get medical care immediately: muscle cramping, faintness or dizziness, nausea, rapid heartbeat.
Make sure to have the right equipment and wear it for both practice and games.
Know the signs and symptoms of concussion and seek medical care immediately.
Keep your child in a forward-facing car seat with a harness until they reach the top limits for height and weight of the car seat before switching to a booster seat.
Keep kids in the back seat of the vehicle.
Keep your child in a booster seat until he/she is big enough to fit in a seat belt properly (or at least until the age of 8 years old).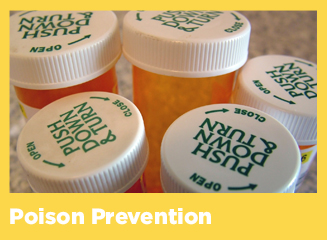 Keep cleaning products in their original containers.
Safely throw away old medicines and other poisons.
Read product labels to find out what can be hazardous to kids.
Save the Poison Help Line in your phone, 1-800-222-1222.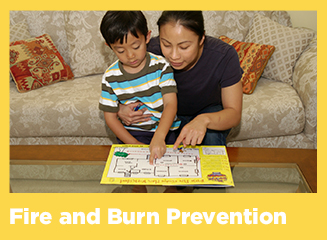 Do not allow children to use a microwave by themselves until they are both tall enough to reach it safely and able to understand that steam can cause burns
Actively supervise bigger kids in the kitchen and around electrical appliances
Keep gasoline and lighters in a safe place and out of reach of children.
Teach children never to play with matches, lighters or fireworks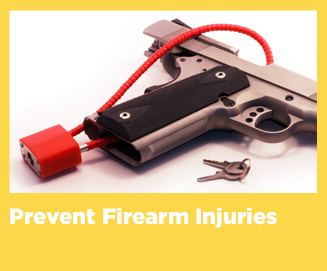 Store guns out of the home, or keep unloaded and locked in a place separate from ammunition
Teach child never to touch a gun, tell an adult if you see one
Talk to family and friends about safe gun storage
POISON HOTLINE: 1-800-222-1222